Blogger Outreach: What Everyone Needs to Know
Traffic.
Everyone wants it – few know how to get it.
I won't say I've cracked the code on how to get massive traffic.
But I will say that I've cracked A code on how to get massive traffic… and it certainly was not without hard work.
Over the last few months we've doubled our own traffic at Ninja Outreach.
The code? Blogger Outreach.
After we implemented a blogger outreach campaign in mid-January of this year, we immediately started seeing results. The best kind of result, more traffic.
But don't take my word for it. See for yourself: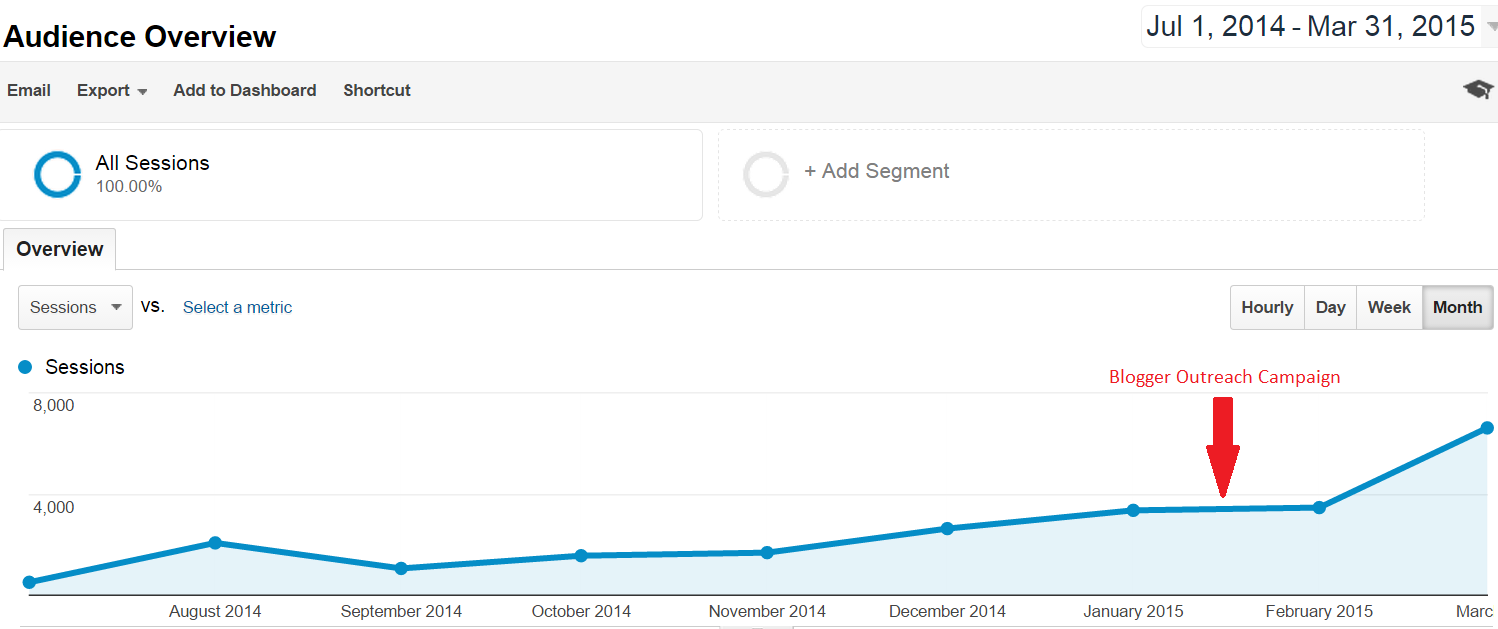 What Is Blogger Outreach?
In the last decade blogging has exploded. There are over 152 million blogs on the internet, and growing.
And blogs are driving consumer purchasing decisions. A recent study by Technorati found that blogs rank number 3rd amongst digital media for influencing purchasing decisions.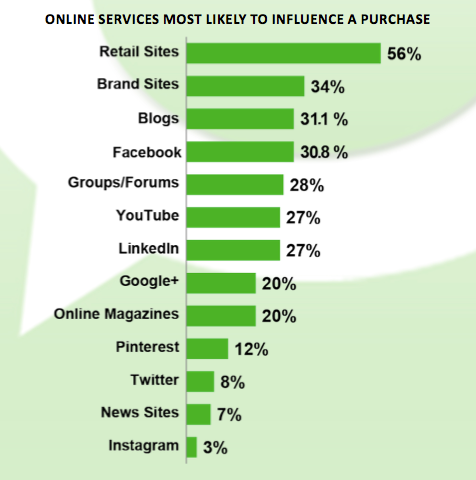 As a result, more and more businesses are lumping bloggers in with traditional journalists, and more and more consumers are trusting them as authorities.
And to some extent bloggers are even more convenient.
Thanks to their presence online, bloggers are easier to get a hold of compared to journalists. And there are much more definable metrics to judge how much authority they have.
For example, we can look at their social media following, their traffic and engagement levels, as well as specific influencer metrics like Klout and Kred. It's often quite easy to find their contact information because they all have websites most of which include contact forms and emails.
In some ways, bloggers are kind of like journalists made easy, and as a result they are ripe for forming great partnerships with businesses that can provide value for them and their audiences.
However, like anything, blogger outreach has its nuances.
How Do You Find Bloggers To Reach Out To?
If you're on board with the concept of blogger outreach, you're likely curious as to how you can find them.
You'll find two ways below. The first is the manual process via search in Google. The second is to use a blogger outreach tool like NinjaOutreach.
The Manual Way
The manual way looks a bit like the following:
Run a search in Google. If you're in the fashion niche, it might be something like "Best fashion bloggers in Boston."
Start at the top, and begin opening each search result.
Analyze the results for the specific metrics that matter to you. For example:

If you are interested in their traffic you might want to put the URL in Alexa.
If you want to see their social following then you can visit their social media pages.
If you are interested in their engagement then you can look at how many comments and social shares their posts get.

Search for their contact information, if you can find it. Often bloggers have a specific contact page.
Pitch them.
Does this sound like a lot of work?
It is. In fact the process I've described above could easily take 5 minutes per blog (and that's with fairly minimal personalization).
This equates to over 8 hours of work for 100 blogs, which quite possibly will have a response rate of less than 10%.
Bascially, your whole day!
The Ninja Way
The Ninja Way is of course, to leverage a software to do the heavy lifting for you, for example, Ninja Outreach.
Here's what a search for marketing blogs looks like in our tool.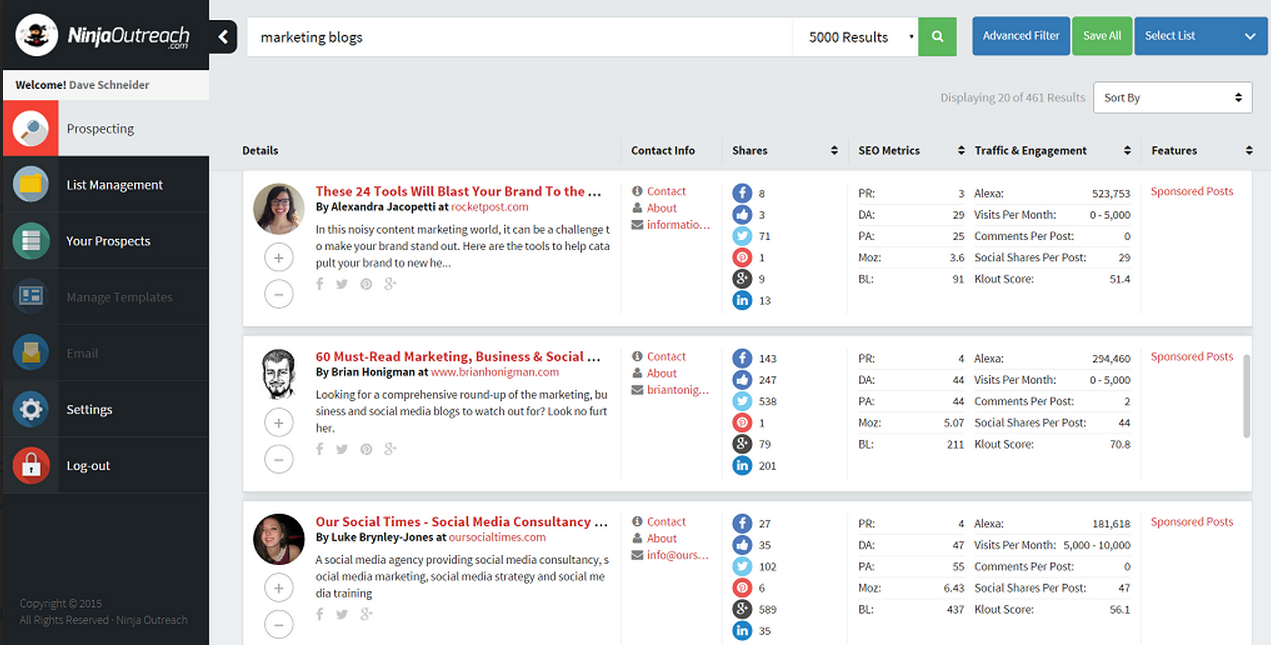 In summary:
Hundreds of blogs returned in seconds.
Social, SEO, and contact data all in one.
Customized templates and outreach built in.
I'm not trying to oversell here. A tool is still just a tool, and it requires a human behind it actively selecting the best fit blogs, writing the templates, and performing the outreach.
But if you're serious about blogger outreach at scale, this is something you're going to want to look into.
Let's dive deeper into blogger outreach. Now that you've found potential blogs to reach out to, either through the manual or The Ninja Way, what next?
How Do You Know Which Bloggers To Reach Out Too?
So, back to that whole human running the software thing.
Identifying bloggers in your niche is one thing, but it doesn't quite answer the question of who you should be reaching out to.
There might be thousands of bloggers in your niche. You have to decide what is most important to you. Consider the following questions.
Am I targeting a specific location?
Am I being specific enough in my niche choice (for example food bloggers is pretty general, sushi bloggers is more specific, and sushi bloggers in San Francisco is very specific).
What metrics matter most to me (Do you want a large Facebook following or Twitter following – or both? What about traffic? Engagement?)
Does this person engage in product reviews, giveaways, competitions, etc?
So let's go find the person with the largest following and strongest metrics, right?
Not necessarily. While it's natural to want to reach out to the biggest fish, unfortunately, the top bloggers don't have the time to deal with all the offers they receive.
And realistically, they are only looking to sell to their audience at most a few times a month.
Without an extremely compelling offer, you're in trouble. Take Pat Flynn, who had to declare email bankruptcy as a result of having over 9000 unread emails in his inbox.
Your chances of getting read are lower than getting into Harvard. I know first hand, as I went to Harvard, but I don't think I've had Pat Flynn read one of my emails yet!
Luckily, though, every niche has tens of thousands of bloggers. All you have to do is start building relationships with them.
How Do You Build Relationships With Bloggers?
Building relationships is no simple task. Think about your group of friends, and the multitude of interactions that was required to be able to call them up on a weekend and ask them to help you move out of your apartment.
This is why it is best to approach blogger outreach well in advance.
Remember, no one likes to be called on simply when a favor is needed.
Click To Tweet
In fact, if you work with clients, you might want to consider some form of blogger outreach before you have a client – just so you have a network that you can draw on.
Here are some straightforward ways to get on their radar.
Linking to them in a post
Sending them an email
Commenting on their blog
Following them on social media
And if you want to stand out a bit more, consider these unconventional methods.
Facebook Commenting
FB commenting is a great way to stand out. This post from Spencer at NichePursuits got around 38 comments on his blog, but I was the only one who commented on Facebook.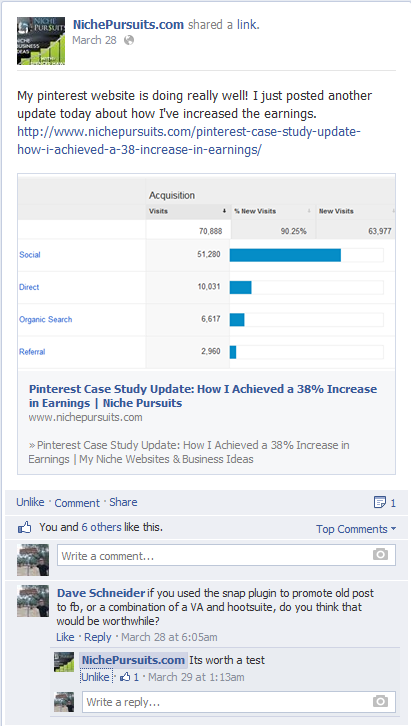 As a side note, I like that you don't have to fill in all those form fields with an FB comment!
Tag Them In Google+
G+ is another way to let someone know you follow them while staying out of their email inbox.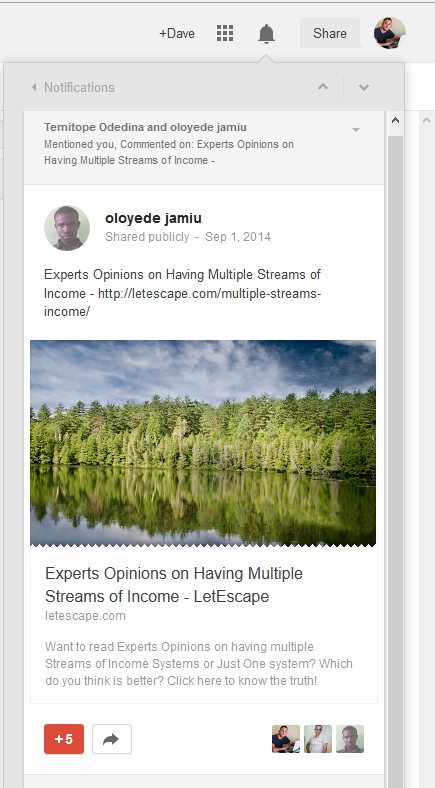 I get a simple alert up in the top right of my email where I can click and go to the notification if I want to. It's super easy to tag someone as well, quicker than linking.
Leave An iTunes Review

Relative to comments, influencers far fewer iTunes reviews.
Consider Rob Walling and Mike Taber from Startups For The Rest Of Us with just over 250.
Likely, they have thousands of comments on their blogs, so this is a nice way to stand out and it means a lot more to them because it directly helps with their ranking in iTunes.
Leave An Amazon Review
Similar to iTunes, there's Amazon.
Just like in iTunes, 5 star reviews help the product rank and get noticed, which drives sales for them, which increases their bottom line, which makes them happy.
Chris Ducker's book, Virtual Freedom has more than 600 reviews, which again is much less than his blog.
How Do You Pitch Bloggers?
We outlined this all the way through in our post on How To Write The PERFECT Pitch (To Get What You Want).
In short, I like to break it down into a simple 5-step formula.
Introduce yourself – Who are you and why do you matter?
Define the relationship – Cite a few instances where you've been building the relationship to jog their memory.
State your intent – What do you want?
Explain your idea – Give a more indepth response. If you want to guest post, what is the topic?
Convey the value – Why should this person care?
Look, there is no golden ticket here. Everyone likes to be communicated with differently (and individually), and I've never seen an outreach template that converts at 100%.
Bottom line – You have to explain to the person what is in it for them AND their audience, because without that, they have no reason to follow through.
What Should I Pitch Them?
Ah yes, you're ready to send an email and you forgot one simple thing.
You have no idea what to ask for!
Here are some ideas:
Write A Guest Post

Groove, a customer support app, has made fantastic use of guest posting. Their guest post on Buffer sent them more than 11k visits and hundreds of trial sign ups.
Guest posting can be super effective and low cost IF you learn how to do it properly and target the right audiences.
At Ninja Outreach, we've published over 30 guest posts in the last 3 months solely through blogger outreach. This has been a major factor in our traffic growth.
Run A Giveaway

LeadPages is notorious for giveaways. It seems every time they appear on a blog, podcast, or webinar they're giving away a license (or several).
For example, here they are giving away a license on OkDork.com.
For them this is a fantastic, low cost way to generate leads. I even tried this on my own blog, SelfMadeBusinessman, and it resulted in over 500 opt ins.
Appear On Their Podcast

Podcasting is a great brand building medium because it allows you to speak (literally) to their audience.
Rob Walling, a software developer and entrepreneur, is very effect at using podcasts to promote his products; Hitail and Drip.
Personally, I love appearing on podcasts, even more so than guest posts. I find they take a lot less time but can be just as effective, and build stronger relationships with the influencer.
Get A Product Review

We love to get people to review our product in exchange for a free license. Again it's very low cost and can be more effective than a guest post in showing the audience what you have to offer. Here's a few recent reviews we had:
What differentiates this from guest posting is it puts the focus on the product and because the writing is coming directly from the influencer, it carries more authority with the audience.
Recruit Affiliates

Imagine an army of people promoting your product for commission only.
Amazing, right? And it can actually be a good deal for both parties.
Matthew Woodward, who makes 5 figures a month promoting internet marketing tools on his blog, is a master at this. He does a number of competitions and product reviews.
Imagine a venn diagram with Matt, his audience, and the business. The intersection of all three is where everyone's a winner.
His audience gets introduced to a great product (and often a discount)
The business gets customers
Matt earns affiliate commissions
So Is Blogger Outreach really worth it?
Can blogger outreach can deliver results?
Of course, there are always going to be variances in ROI on account of the blogger's audience size, relevance, and approach. But without a doubt, many brands have experienced successful partnerships with bloggers.
Consider:
And if you think this strategy is exclusive to the big guys – forget about it. We've been implementing it, too, to grow our own audience which was virtually non existent just last year.
You have to be creative, and generous as well as have the right strategy.
But if you are persistent, it can pay off HUGE.
What about you? Have you had any success with blogger outreach for you business? Do you have any questions about blogger outreach? Comment below with your thoughts!