4 Dumb Monetization Mistakes that Prevent Your Blog From Making Money in Your Sleep
I once saw an aspiring online marketer complain on Facebook about the size of his list.
"I have almost 2000 people on my blog's email list! Soon Mailchimp will start to charge me $30 per month, and my blog doesn't generate this much right now," he said.
That person has 2000 readers loyal enough to give him their emails… but no idea how to build on that relationship and start generating revenue.

No wonder they say blogging is dead!
Yet here you are, reading this post. And thousands of bloggers earn a healthy passive income – sometimes as much as 6-7 figures per month. I bet they consider blogging to be very much alive!
Chances are, if you are reading this, you want your blog to make money. Not necessarily a fortune, but a good amount. And there is no lack of monetization advice out there. Trouble is, most of it is misguided, put together by people who haven't made a single penny online.
There are many ways to make money from your blog, and a lot of pitfalls around each. Today we are going to look at 4 most common, and devastating, mistakes that will nip your dreams of lucrative monetization in the bud – unless recognized and dealt with.
Mistake #1: Thinking About Monetization Last
Bloggers everywhere wrestle with one terrifying question: "If I give away all of my best content for free, how do I start making money?"
To address this fear, let's get back to basics for a moment.
Why do people read your content? Why do they leave comments on your blog? Why do they take action on your advice, and come back to tell you about it?
The simplest answer is usually the right one: because your content adds value to their lives.
In a weird way, it is your obligation to make money from your blog. Otherwise, how would you ever have the time or money to deliver truly awesome free content? There's just no way.
As you pay for goods and services that help you be healthy, make more money, or just entertain you, so will your audience. Getting them to pay isn't the tough part – it's figuring out what exactly they want, and delivering it.
Monetization isn't something you do as an afterthought.
It's a logical extension of what you do as a blogger. It's a way for you to serve your audience better, to solve their problems, and to add even more value.
Stupidly Easy Fix
Treat your free content as a valuable gift to your readership, and paid content as a specific solution to their problems. Think of monetization as your crowning achievement, not as something you do for its own sake.
Look at Tim Ferriss, for example. His blog is 100% free, and it features some of the best content on the web. Like many bloggers, he was hesitant to monetize (and still is).
But when Tim found a way to go an extra mile for his audience, he ran with it, creating "Opening the Kimono" – an event with $10,000 price of attendance. And guess what? "Opening the Kimono" sold out the same day it was announced, because it was exactly what Ferriss' audience wanted!
The lesson here is that monetization directly originates from what your readers want most. Give it to them — and they'll pay you happily.
How you accomplish this doesn't really matter. If Tim Ferriss did it through a high-end personal event, it doesn't mean you need to emulate him.
Start with whatever format is right for you and your readers. For example, if you are a freelancer, you could use your blog to get more clients. You can build and sell a product through it, or offer a valuable service like coaching.
You can always diversify later: build a product out of your service, or create a premium-priced coaching/consulting package based on a product you sell.
Just don't fall prey to this next mistake…
Mistake #2: Not Playing to Your Blog's Strengths
When monetizing your blog, going with what is popular or expected is a recipe for disaster. Instead, do whatever you can to take advantage of your strengths.
For example, are you getting lots of traffic from social media? Then it wouldn't be a bad idea to engage your readers through a private community, and warm them up for a paid mastermind group.
Do readers buy products based on your recommendations? You might want to try affiliate marketing – just do it in the most ethical way possible.
Is your readership more like a small band of dedicated fans than throngs of casual readers who like to be entertained? Then you will enjoy bigger profits, and morepersonal fulfillment, if you create a product they love, as opposed to wasting time with AdSense and related silliness.
Do you love sharing your knowledge, but can't stand selling services? Then forget about sophisticated coaching packages and consulting. Sure, you'll make money, but you will feel miserable the entire time. Who wants that? Instead, put together an amazing course that your readers can take at their own pace.
I could could go on and on with more examples, but I think you get the idea.
Stupidly Easy Fix
When it comes to monetizing your blog, do what makes sense for your audience and your niche, not what the new guru on the block keeps parroting. Have a clear understanding of your assets and build a monetization strategy around them.
Maria Popova from Brain Pickings is a great example of this. Her blog is all about unexpected connections in science, art, and culture, and it relies entirely on reader donations.
Nothing else would make sense for a website that is all about creativity and passion. Maria does something 99% of bloggers are terrified of – she asks for money directly. And her readers are happy to oblige.
Taking advantage of your blog's unique assets is a must, but it's not enough. If your audience doesn't want what you're offering, even the best-designed marketing campaign won't save you.
Which brings us to the third mistake you can make: creating an offering too early.
Mistake #3: Believing the "Build it and They Will Come" Myth
You ruined it for everyone, Field of Dreams!
Trying to follow this myth is the surest way to crush your dreams of passive income and financial freedom that I know of.
Just think about it. Would a luxury construction firm just build a villa on Spain's famous Costa del Sol and wait for some billionaire squatter to settle in? Not a chance!
Yet more often than not that's the approach most bloggers take in their pursuit to build a lucrative business. They assume that their audience will instantly buy whatever they put out.
So they go ahead and build some totally awesome thing-that-you-can't-live-without…
…and launch to crickets. Cue the "Sad Trombone".
The lesson here is: before you lift a finger, you need to be dead certain that your readers want the product or service you are planning to build.
You need to know: a) that they want what you are selling; and b) that they can afford it. Before you have validated your monetization idea, every hour you spend creating it is a waste of time.
Stupidly Easy Fix
There are a myriad of ways to test and validate your monetization idea before you sink precious time, effort and money into it. Remember: if the idea flops, you are never getting them back!
Here are just a few ways to validate:
doing market research on what your competition is offering;
conducting a reader survey;
launching a pre-sell pilot;
testing a minimum viable version of your product with a pilot group.
If your potential customers confirm that they would pay for what you are offering, great! It means that you idea is profitable.
If they don't confirm it, also great! It means you won't waste any time on something that is doomed from the get-go.
If they provide feedback and valuable suggestions that make you change the offering and re-position your idea, you guessed it – that's amazing.
Every successful blog goes through the same process of validation and testing. No matter how big their audience is, no matter how fail-proof the concept is, they need to be 100% certain it will work. Firepole did it with the Course Builder's Laboratory, and other examples are too many to list.
If you hope to make money with your blog, you have to do the same. And the best part is, you don't need to wait until you are as big as Firepole — you can start right now!
Don't believe me? In that case, I give you mistake #4…
Mistake #4: Waiting Until You Have a Massive Following
How big does a blog audience need to be to become profitable?
A thousand? Perhaps 10,000? Or (gasp!) no less than 100,000?
The truth is, any number of loyal readers is enough to start making money. It all comes down to your approach.
For example, if you rely on ad revenue alone, it helps to be the size of Mashable. If you sell affiliate products, numbers matter slightly less, but "the bigger the better" still applies.
But if you offer services or very high-end products, this is where things get interesting. In that scenario, just one or two successful sales will see you through – no matter how small your audience is.
If you approach the problem creatively, you will discover that even a very small readership can generate lots of revenue for your blog.
Stupidly Easy Fix
Face it — "my readership isn't big enough" is just another excuse of many.
Here's something for you to ponder: in December 2014, I made a $1000 sale with a list of 20. Not 20,000, just twenty. It cost me exactly zero bucks and approximately 2 hours to do this.
Talk about "size doesn't matter"!
I simply wrote to every person on my list that had opened at least one of my emails, and talked to them. In the process I learned about their problems and fears, and made my pitch. Of the four people that were interested in my offering, one bought a $1000 coaching package.
"Sure, you could sell a service to small list — but it would never work with a product!" you might say. Bryan Harris, founder of Videofruit, has a great story that will prove you wrong.
Are You Stopping Your Blog From Making Money?
Many successful bloggers regret not monetizing sooner. And who can blame them? Investing dozens of hours every week to create top-notch free content gets really stale after a few months.
But it doesn't have to be this way. There are dozens of proven strategies to monetize your blog and finally make money doing what you love. Nothing holds you back except the mistakes and misconceptions described above.
But now you know how to fix them. You have actionable recipes to reverse those mistakes and make sure your monetization efforts are successful. Now is the perfect time to start. So, what are you waiting for?
Feel free to share your war stories about monetizing your blog in the comments. Mistakes, triumphs, harsh lessons, bragging — we want to hear it all!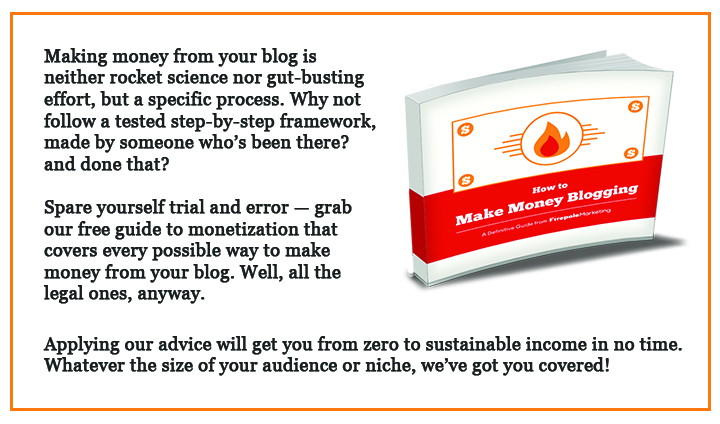 [downloadnow download="https://s3.amazonaws.com/firepole-files/big_reports/monetization.pdf" static="true" nomemberurl="http://www.firepolemarketing.com/make-money-blogging-guide/" downloadtext="Get My Report Now!"]