Engagement Matters: How to Get Big Results from a Small Launch
If you read Thursday's post, you got an inside look at a $2 Million Launch.
And while we realize that there's value in pulling back the curtain and giving our readers a peek at how we pull off a successful launch, we also understand that many businesses simply aren't operating at that scale yet.
We get it. When you're just starting out or your audience is still too small to pull that much engagement, it's hard to know how to scale a big success story and apply it to your business.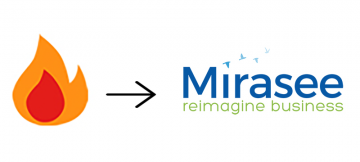 So today's post is for the majority of the online marketing world: the solopreneurs, the startups, and the small- to medium-sized businesses who need a launch plan that works with smaller budgets and fewer resources.
Let's take an inside look at the beginnings of Mirasee, when it was just starting out as Firepole Marketing.
Starting from Scratch
Every business starts at zero. Sure, there may be some relationships or favors that can be leveraged, but as far as audience goes, we all start at zero.
The key is to get all your foundations right, things like who you're serving, the niche, your value proposition, and the marketing pieces needed to put your offer in front of your target audience.
As hard as it may be to imagine, that's exactly where Firepole Marketing started in 2010.
Danny launched Firepole Marketing to offer a marketing training program for small businesses, entrepreneurs, and non-marketers. He and his partner had the training program and a brand new blog, but they had no readers, no subscribers, and no relationships with the big players in the industry.
Fast forward to less than a year later, and Firepole Marketing had already become a household name in the internet marketing world.
Hundreds of thousands of people had read Danny's work, the training program was full of students, and he had just co-authored Engagement from Scratch! with Guy Kawasaki, Brian Clark, Mitch Joel, and all of the other superstars whose ideas and experiences are shared in that book.
So how did he go from zero to hero in less than a year? Keep reading to get the full story.
Create Your Loyal Audience (from Scratch!)
Get the guidance and insights from 30 of the world's most successful audience- and community-builders to turn your internet business into a true audience business.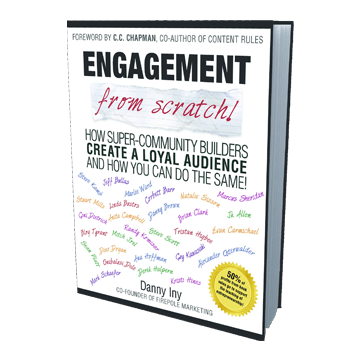 But First, a Little Backstory
Our story begins in 2007 when Danny founded an education company that was broadsided just one year later by the economic crash. (He blames his lack of experience as a CEO, but to be fair, it was his first big start-up, and he was only 25 years old at the time.)
The crash left Danny in a quarter million dollars of debt, struggling to fill a pipeline of consulting clients in a harsh economic environment.
What does anyone do it that situation? They hustle.
And that's exactly what Danny did.
He reached out to all his past clients and attended every networking event he could find. He rebuilt his consulting practice, started paying off his debt and got back on his feet. He also forged a partnership with Peter Vogopoulos.
They had both noticed that there were a lot of entrepreneurs and small businesses (0-10 employee range) who needed marketing help but had little or no money to pay for it.
They began looking for ways to serve these people and realized that most marketing trainings were either too complex, too convoluted, or too tactical. There was nothing out there that would teach people how to market their business and get real results—simply.
So they put their heads together and built the training program that became the flagship product of Firepole Marketing. Towards the end of 2010, the training program was nearing completion.
It was time to launch.
Failure! And a Lesson in Viral Marketing
Knowing they needed to get the word out about their program, Danny and Peter focused on viral content marketing and the traditional launch formula.
They wrote 7 blog posts about the FIREPROOF Selling System, each ending with an engagement-boosting question, then added a contest to encourage engagement. Visitors had to share the posts with their networks and leave a comment answering each question to enter the contest.
That was followed by the big launch: three videos and a bunch of emails to their list.
So what were the sales results? Nothing.
No sales at all.
But here's the thing: The problem wasn't in the tactics they were using. Content marketing, contests, and the launch formula are all proven tactics. In this case, the problem was no traffic and no audience.
At the beginning of this campaign, the Firepole Marketing blog was getting no more than 10 readers per day. Not enough to make a content campaign go viral or generate a big response to a launch.
So Danny backed up and put his focus on audience building. After all, that was the foundational piece missing from Firepole's launch plan.
Becoming "Freddy"
After taking a course on guest blogging from Jon Morrow of Smart Blogger, Danny discovered first-hand the power of guest blogging for growing a blog from scratch.
Read more about how Danny become the Freddy Krueger of blogging here.
From that moment on, Mirasee—then Firepole Marketing—has enjoyed steady, reliable growth. That first failure simply revealed a truth most gurus don't talk about.
You have to have your foundations in place before guru tactics will work.
Click To Tweet
And one of the most important elements in your foundation is an engaged audience.
First, let's talk about engagement.
It's really a matter of virality, creating content that catches people's attention and makes them want to share. To do that, you need to understand the formula for virality.

Essentially, you need epic content, a critical mass of people who see that content, and an easy way for the content to be shared.
Epic content is relatively easy, especially if you use the guidelines in this article. And you can use click-to-tweets and social share buttons to make it easy for your content to be shared. Just be sure you tell people to share in your call to action!
But how do you get a critical mass of followers?
You need to focus on audience building.
Here, let me show you what I mean. This infographic shows you the 4 stages of audience building, following the exact system I used to build my blog.

Following this simple process, even a small business can enjoy successful launches.
In fact, Danny's second launch, in August 2011, proved it. It not only did well, it succeeded to the tune of multiple 6 figures.
Looking at the Big Picture
When Danny started building his audience, it was because he needed a way of marketing his training program. But every business needs an audience.
Danny's approach is a good one for any startup or small business—if you're willing to put in the effort.
He spent hundreds of hours interacting with other people who had built audiences.
He read their posts, commented on their work, corresponded with them via email, and spoke with them on the phone.
He came to respect and admire many of them, and in some cases, what started as a professional connection became a true friendship.
It all boils down to audience building and networking.
But it's important to remember: An audience is more than just the strategies and tactics that go into audience building, and it's far more than a number in Google analytics.
A vibrant, engaged audience is a living, breathing entity that ties real people together.
In short, it's a community.
What's your favorite way to build and audience and generate engagement? Let us know in the comments—then share this post with your audience.
Audience Building Checklist
Download the complete checklist for building your highly engaged audience.