Is the Bank of Social Capital… Broken?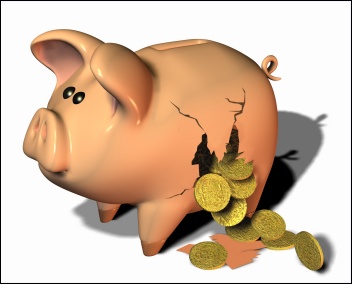 Have you ever seen a bank run?
You know what I'm talking about – people are afraid that the bank will run out of cash, so they want to withdraw all their money. Ultimately, this forces the bank to shut down.
I've seen two and a half. The two were both fictional: one in It's a Wonderful Life, and the other in Mary Poppins.
And the half?
That's a bank run that hasn't happened yet, but I think it might be coming.
I'm talking about the Bank of Social Capital – the one that everyone in the social media world is paying into on a regular basis.
I'm afraid that we might be unable to make withdrawals…
The Bank of Social Capital
I'm not sure who came up with this concept – maybe it was Dale Carnegie or Stephen Covey.
The idea is pretty simple – relationships function like bank accounts. By being helpful or caring, you make deposits, and when you ask for favors, you're making withdrawals.
This informal social economy is what drives most human interactions, and the rule of thumb that generally comes with the metaphor is that – just like any good savings plan – you should always be making deposits, so that when a rainy day comes, you have enough in the account to make a withdrawal.
The bank metaphor even works to the point of extending credit, which we do when we take a chance and help people who haven't earned it, but who we trust as being "good for it". 😉
Now, don't get me wrong – I'm not saying that you should be keeping records somewhere of your "deposit accounts" with each person – at least not formally (if you did, there might be cause for concern!). But informally, we do keep track of these accounts. For example:
"I helped him move into his new house, so why isn't he helping me now?"
"She cried on my shoulder through all of her break-ups, and now that I'm having a hard time, where is she?"
"I helped him land his first job, and now he can't even make an introduction to his colleague?"
Thoughts like these are common, and reflect the fact that we feel cheated and even betrayed when these social favors aren't repaid. It isn't about opportunism, it's just about fairness – someone who takes from everyone, and never gives anything back, is a social parasite.
Deposits and Withdrawals in Social Media
What can you learn from social media to help with your online business? Well, social media lessons and online business lessons are similar- both worlds function in the same way, and we all have deposit accounts to maintain. To be successful in this world, you've got to make a lot of deposits, for example, by:
Of course, there's more, but this is just a sampling of the ways that my favorite bloggers from all over the world and web make deposits on a regular basis.
While it is in bad form to ask people to buy your stuff (a withdrawal) before making enough deposits to reach the trust point, bloggers are more or less on the same page about the acceptability and necessity of monetizing their work.
After all, we spend lots of time and energy making these deposits, and a small, occasional withdrawal – in the form of an offer to purchase a valuable product or service – is completely reasonable (as long as you don't overdo it).
But whereas the blogger's deposit account is fairly well understood, there's another deposit account that doesn't get nearly as much attention…
Audience Members Have Accounts, Too!
It can be easy to fall into the trap of thinking that the blogger does all the work – after all, we write, we engage, and we contribute, and we do it all for free.
The truth is that our audience members have deposit accounts, too. Here are just some of the ways in which they make deposits:
Giving up their valuable time to read our content on a regular basis.
Leaving insightful comments on our blogs, and becoming engaged members of our communities.
Sharing our content with their friends and networks.
Promoting our special offers to their audiences (like how you can get a free copy of Presentation Zen).
Cutting us some slack when our quality isn't as good as it could be, and giving us feedback.
Contributing to our communities by writing guest posts.
Buying our products and services.
I think that many bloggers feel that these "deposits" are simply repayments of the deposits that the bloggers are making – if the content is good, the audience shares it, and if enough free content has been given away, the audience might buy something.
It's always a matter of the audience becoming indebted to the blogger, and then wiping that debt clean (or at least making a payment) by doing something in exchange.
But is that really true? Is it fair?
Can bloggers be indebted to their audience members?
If someone has been an engaged and loyal community member for months or even years, has it all just been an effort to repay the efforts of the blogger? Are their "accounts" really in the same standing as someone who has just joined the community?
What about someone who works overtime to share the message and grow the audience? Is that just repayment for the great content that the blogger has been produced?
And what about someone who puts hours and hours into writing quality guest posts for you? Is that just repayment for access to the blogger's audience?
I think the answer should be no.
I think that if you've been an engaged community member, you've earned the right to ask for more input and advice than is offered to a newbie. I think that if you've shared a blogger's content and grown their audience for them, you've earned some reciprocal promotion.
While some bloggers argue against favoritism, I think that if you don't favor those who have gone out of their way to favor you, you're just asking them to stop. We'll have a run on the Bank of Social Capital, and people will look for a safer place to make their deposits.
But then, it doesn't really matter what I think…
Masters of Social Media and Opinions of the Masses
This post isn't meant to be a statement of fact – it can't be, because I can't dictate facts.
Rather, this post is an invitation to engage in a discussion about the dynamics of the online and social media world – our world. Our expectations and behavior will help to shape these dynamics, so let's discuss: what should those dynamics look like? How should they function? Who should they favor, reward, and punish?
Discussion among ourselves is an important start, but it isn't enough.
"We the people" are only half of the equation, and to be perfectly honest, we are the less influential half. The people who really dictate the dynamics are those at the top: the Brian Clarks, Darren Rowses, and Michael Stelzners of the world. They lead today's social media landscape, and their opinions and actions shape our world's realities.
I'd like for them to weigh in on this conversation, and I need your help for that to happen.
A small withdrawal to fuel the conversation…
I've spent the last several weeks thinking about this, and the last several days writing this post.
You don't have to agree with me, or have found any value in this post at all – but if you did, then I think my work on this post constitutes a "deposit".
And I'd like to make a small withdrawal.
I want the leaders of our industry to weigh in on this conversation, and for that to happen, we need to get their attention. (Yes, it's shocking, but I don't think that Brian Clark, Darren Rowse or Michael Stelzner are regular Mirasee readers!)
So if you have time, and it's not too much of an imposition, I'd like you to please tweet this line: Is the Bank of Social Capital Broken? @Copyblogger @Problogger should weigh in & RT: http://bit.ly/SocialBank via @DannyIny
Update: Mike Stelzner has weighed in – how great is that? 🙂
And of course, please take a moment to leave a comment. If this works, then there is a decent chance that at least one of these guys will be reading the comments, and I'd love for them to see what our community thinks about this!
So what do you think? Do you agree with me? Should audiences be able to make withdrawals? Is the Bank of Social Capital in trouble? Am I just misguided? Have I overlooked something important?