Why Asking Your Readers is The Best Marketing "Technique" Ever… and EXACTLY How You Can Do It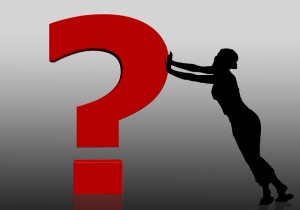 Are your blogging efforts living up to your expectations? Are you getting high conversions, lots of engagement, tons of sales and more income than you can handle?
If so, great. There's no need to read the rest of this post. Go and plan your next holiday instead – I recommend the Fiji islands.
However, if you're rather disappointed by…
 low conversion rates
 little or zero engagement
 no sales
 and miserable earnings despite all your hard work
…read on.
First of all, don't worry. There are tons of bloggers and marketers who suffer from these symptoms, even though the solution could be as easy as asking a simple question. Here's how you can do it.
The Pattern of Failure: FIRE-Ready-Aim
In the incredibly useful eBook called Why People Fail,  Ken Evoy says that there are three personality types destined for failure:
FIRE-Ready-Aim (shoots before she aims)
Ready-Aim-Ready-Aim-Ready-Aim (never actually takes action)
FIRE-FIRE-FIRE-FIRE-FIRE (chases one idea after another without ever accomplishing anything)
Fire-Ready-Aim
Here's a quote from Ken Evoy's book that perfectly summarizes the flaw of this character:
"No research or prep work is needed for me. My gut tells me what to do: start running, don't worry about direction. I'm excited, I have a great idea. Let's go, just give it a shot… even if it's in the dark."
Although this may seem like a very obvious mistake, it's actually one of the top things that cause most bloggers to fail in my opinion.
They think they have a great idea and get so excited that they start executing without making sure that there are enough people who'd be willing to pay for it.
Even if they know the importance of finding out what the market wants, they ignore it thinking they can get away without doing any preparation. And you know the saying by Benjamin Franklin: "Fail to prepare and you're preparing to fail."
In fact, FastCompany.com wrote a detailed article on this very problem titled 8 Ways to Ensure Your New Product Launch Succeeds (you can replace "product launch" with whatever business idea fits your case). Here's a very important quote from their article:
"Companies often refuse to acknowledge a new product or service serves no strongly identified customer need, and they try to retrofit their marketing to compensate."
This is the text-book definition of the Fire-Ready-Aim approach. Doing business this way can cause huge problems and make you waste a ton of time and money on developing something that no one needs. Here's why…
Let's assume that you want to create a new product for your audience.
1. Should you rely on your gut feeling to come up with the topic of the book and then hope for the best?
2. Or should you ask your readers as the very first step what they need help with and what they'd be willing to pay for it?
Just think about it: if you don't ask your readers what they want, you're firing first and aiming only second. Then you'll be disappointed and feel like a failure once you've put months of work into a product that no one buys.
Tons of people make this mistake. Instead of surveying what the market demands they create their product first and later try to convince people why they need it, which is a lot harder than selling something with already existing demand.
Here's another quote from a Forbes article on the importance of polling your target audience before doing anything else:
"By doing your homework before starting your business, you can be assured that your product or service is properly priced and positioned and you are offering the most sought after attributes. This will make your company a powerful force in a competitive business landscape."
So whenever you have a new product launch idea in mind, resist your urge to start working right away. Instead, take a step back and ask your potential clients whether they find it as brilliant as you do.
How can you conduct this kind of market research on your blog? Doesn't it cost thousands of dollars to hire a firm to help you out?
Not if you know how to set up a simple and free, but incredibly effective surveying tool on your blog…
How to Poll Your Readers… Without Being Annoying
If you know surveying tools for small business owners such as Survey Monkey and Qualaroo, now is the time to start using them. If this is the first time you hear about them, you'll be surprised how cheap and easy they are to install.
All you have to do is create a simple survey based on one of the dozens of available templates and give a few days for your visitors to fill it out.
Once you have enough feedback you can act based on solid knowledge, not just guesswork.
If people say they would be willing to spend money on your idea, it's a green light.
If they're not interested, you can save yourself from a huge failure.
You can only win by running a survey: you'll either have your idea validated and get tips on how you could make it even better, or avoid falling flat on your face.
Here are a few real life examples to help you see the power of asking.
Note: to get the most value out of running a survey it's important to have at least 50-100 daily visitors. After all, if no one sees your question you obviously won't get enough feedback to help you improve.
However, getting this kind of traffic is quite easy if you follow the right advice. Here are the best resources to get you there:
Website Traffic 101 – ThinkTraffic 
How to Get 40,000 Readers Without Guest Blogging – Kikolani.com 
Also, the thing I love about Qualaroo is that it makes filling out a survey almost irresistibly easy, so even if you have only 10-20 visitors per day you can expect to get enough feedback to readjust the direction of your future blogging and marketing efforts before you grow a huge audience.
How I Increased My Income by Asking My Readers One Simple Question
My website focuses on teaching "the average person" how to earn extra money on the net. Since I write about very basic topics sometimes (e.x.: how to choose a niche, how to choose a domain name, how to use WordPress) I automatically assumed that most of my visitors were wanna-be bloggers without a website.
As a result, I put a lot of affiliate links on my pages for HostGator which is the web hosting provider I recommend for building a new site. Considering that I receive over 600 visitors daily, I was expecting to make at least 30-50 HostGator sales in 30 days. With one affiliate commission earning $125, I was hoping to make around 40x$125=$5,000 per month.
In theory, everything worked out great… the only problem was that I couldn't generate even 15 sales per month so my income was disappointingly low for my expectations. In other words, I realized I had made the FIRE-Ready-Aim mistake.
That's when I decided to ask my visitors what they really wanted from me so that I could serve their needs better.
I used Qualaroo's 14 day free trial to poll my visitors. The reason I chose Qualaroo over Survey Monkey and other options is that it makes creating a survey very easy and – even better – it makes filling out a survey ridiculously simple for visitors, too.
In case you're not familiar with it, Qualaroo is the tool that pops up in the bottom-left corner of a webpage, usually asking you a multiple-choice question.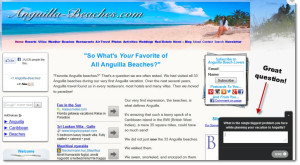 More on setting up Qualaroo later…
The question I asked was "Do you want to start a website or blog?" The two possible answers were Yes and No.
If someone answered Yes, the Qualaroo box would change into a so called Qualaroo Nudge, offering a link to a video course I put together to show people how to build a blog with HostGator, which of course used my affiliate link.
If someone responded No, the Qualaroo Box would ask them "Why don't you want a site or blog?" where people could tell me why there weren't interested in starting a new site and what they wanted instead.
It took only a week to receive over 150 responses, the majority of which indicated that most of my customers weren't interested in starting a new site. It was either because
they already had one or
they were looking specifically for work from home ideas that didn't require a site.
That explained why my HostGator sales were so few and far between, but it didn't stop there. Since Qualaroo reports from which page each response comes from, I could easily figure out what my visitors wanted on a page by page basis, based on which page they were reading when the survey box showed up.
And based on their responses I could simply find the products or services that would best fulfill their desires and promote them as an affiliate.
This resulted in much better results (and more income) than plugging HostGator on every single page to people who weren't even interested in buying it.
And that's just one example of the power of asking a simple question.
How Mirasee Revived Their Podcast via a Survey
If you've been a regular Mirasee fan for some time (and who hasn't!?) you know there was a time when they almost decided to pull the plug on the "Fireside Chats" podcast.
The problem was they didn't have any data on how well the podcast was doing; besides they didn't get too much encouragement from their audience either.
Fortunately before making a final decision, they decided to ask their readers' opinion:
"With all of this being said – there remains just one thing to do…
Ask what YOU think we should do!
So… we've put together a short, 3-minute survey about the Fireside Chats with Danny Iny Podcast Series, so that you can let us know whether you like this feature, or think we should pull the plug.
So please, take a few minutes to fill it out at [survey link]"
A few weeks after running the survey they announced to keep the podcast alive, and drew the following conclusions:
"One of the big things that I think we did wrong setting out with this project was not getting quite enough input from all of YOU as to what you want and need from this kind of format – so we're going to be changing that too.
"The feedback we've gotten so far from the blog comments and survey we asked you to complete was invaluable in making some of these choices."
"The takeaway here is that when you're starting a project like this, it's a really good idea to plan in advance what you want the style, tone and content of the podcast to look and feel like. It sounds terribly obvious, but we really thought that we'd get the hang of it without too much difficulty. That wasn't the case, and our quality suffered because of it. "
"Finally – we need to promote the podcast much, much more on the blog! Lots of people in the survey didn't even know we had one! If we're going to keep it up, it needs a little more promotion time and space."
The point is, this podcast and the survey is the perfect example of what you should do if something doesn't go as you planned.
If you fell into the Fire-Ready-Aim trap when getting started, don't panic. Ask your audience what the problem is and how you could fix it and then make the necessary adjustments. As far as I can see, the Fireside Chats Marketing Insights Podcast has been doing just fine after running that 3 minute survey (and of course getting an expert involved).
How to Set Up Your Survey in 10 Minutes for Free
There are many survey tools out there, but my favorite is Qualaroo so I'm going to show you how you can set it up. Of course if you want to go with something like Survey Monkey as Mirasee did, feel free to do so.
Step 1 – Sign up for a free Account
The first step is obvious.
Step 2 – Add the Code to Your Blog
Once you log in you'll see the code you have to insert on every page of your site where you want the little box to pop up.
Once you're done with this, click the green Create New button to get started.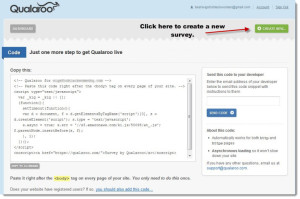 Step 3 – Customize Your Survey
If you want to have only one question and a Thank You message at the end, leave everything "as is".
If you want to add multiple questions and take people from one question to another, add a New Screen and choose it from the drop down menu next to the text that says "If selected continue to". This enables you to customize people's experience based on which answers they choose.
Play around with these features until you get the hang of it, then move on to the next step.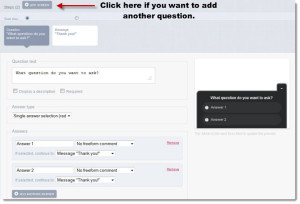 Step 4 (Optional) – Create a Nudge to Increase Conversions
Creating a "Nudge" at the end of your survey can help you get more people to deliver your most wanted response.
To set it up, go to your Thank You message and tick the "Display a call to action button". Then specify the URL you'd like your readers to visit once they get to the end of your survey.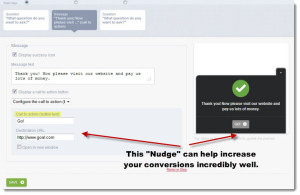 Step 5 – Customize your Qualaroo Settings
Once you're ready and click Save, a new page will open where you can set how you'd like the survey to be displayed: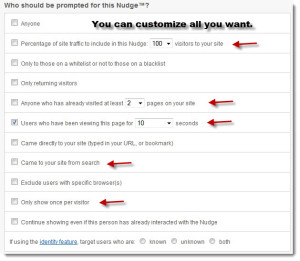 So that's it. Now you know why asking your readers is the best marketing "tactic" ever and exactly how you can do it. If I can give you one final tip, check out these 3 tips on how to ask the right questions when running a survey so that you get valuable responses.
Now it's your turn: have YOU ever run a survey on your blog? If yes, what kind of results did it help you achieve? If no, are you planning to start one based on this article?
Let us know in the comments below, since one lucky commenter will win one free month of Small Business Insights Qualaroo Package worth $79!