Ask the Readers: What Do You Learn from Big, Nasty, Gut-Wrenching Mistakes?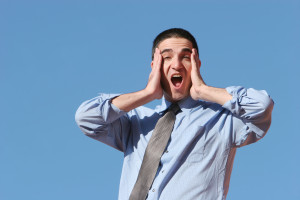 I don't have to ask if you've ever made a mistake.
I know you have.
Being a human, interacting with the physical world means that you make mistakes once in awhile.
It's not a fun fact – but there it is.
I know I've made them, personally, and that we at Mirasee have, on occasion, made them together.
It feels awful.
A terrible, sinking feeling in your stomach. A silent voice, screaming in your head. Your eyes widening until you think they might pop right out of their sockets.
It's nasty.
But it happens to all of us – and there is no great mistake that doesn't bring some small good, as well as the aforementioned flu-like symptoms.
What form does this little bit of good usually take?
Well, mistakes mean a few things…
They mean you're stretching your limits.
They mean you're taking risks.
They mean you're learning.
It's that last one I'm the most interested in today. We ran a really interesting Marketing Insights Podcast last week about business mistakes – but I think it needs a little more exploration – I want to hear from you!
There are a few ways to look at the learning that comes from making a good, walloping mistake.
When you screw something up – what do you think the best way to recover is?
How do you identify what caused the mistake in the first place?
How do you try to avoid making the same mistake in the future?
Let me know in the comments, folks – common business mistakes are, happily, the kind of thing you can learn from second hand!