Announcing My New Book: Engagement from Scratch!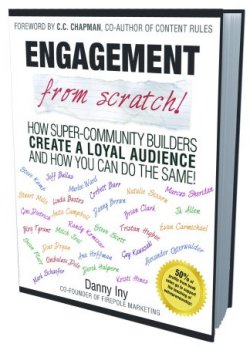 Blog years and dog years… pretty much the same, right?
Mirasee
is about a year old, and while we haven't reached the serious adulthood of the Copybloggers of the world, we're certainly starting to approach our adolescence.
But back in June, we were still in our infancy, struggling to figure out how to grow.
I read everything that I could find, and I did every experiment that I could think of. But I didn't want to just do it by trial and error.
So I reached out to every expert that I could think of, and asked them one simple question:
"How would you build an engaged audience, from scratch?"
Now, I'm excited to be able to share their answers with you, in my brand new book called Engagement from Scratch! How Super-Community Builders Create a Loyal Audience, and How You Can Do the Same!
You'll be hearing a lot more from about this book, but for now, here are the highlights:
The book is well over 200 pages long, and features contributions from 30 different audience-building superstars (stay tuned, the full list is coming soon!).
There is a ton of practical advice for you to use while growing your own audience.
50% of the profits from book sales will go to support the Network for Teaching Entrepreneurship (NFTE).
After the book launches, a free e-book version will be available for anyone who wants it.
Danny Iny (@DannyIny), a.k.a. the "Freddy Krueger of Blogging", teaches marketing that works at Mirasee. Together with Guy Kawasaki, Brian Clark and Mitch Joel, he wrote the book on building engaged audiences from scratch (available on Amazon, or as a free download).