Ancient Marketing Technique Yields 4,967% Return on Investment (True Story!)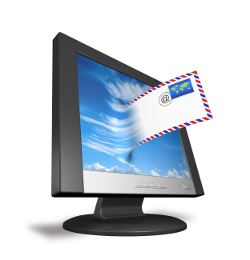 Despite our obsessions with smart phones, social media, and all things digital, one of the oldest forms of commercial marketing can still produce huge dividends. Can you guess what it is?
Paper.
Many of us have long since given up on using snail mail to get leads. Plenty of people, in fact, don't even see a need for direct mail anymore – especially not for marketing.
But there's that kid in all of us who still hopes that one day you'll check the mail and inside will be a personalized letter, addressed just to you, with some exciting gift or message inside. Something other than flyers and bills. Right?
I know I do. So when Write Ahead was looking for a way to reach out to a very important group of potential customers, snail mail just seemed like the way to go. What better way to get someone to read our sales letter, than to have it delivered directly to them in hard copy? It's almost like getting a present.
We launched a direct mail marketing campaign last January to reach out to a very specific type of client. The direct cost of the campaign was $450. The cost of our time to look up all the names and addresses – about $300.
The return? $38,000 – and counting.
If you haven't done the math, that's a 4967% return on investment. Not bad!
Now before you run out for a box of envelopes and a roll of stamps, note that I said "a very specific type of client". Direct mail is less likely to generate strong returns if you blast it out to thousands of people who may or may not fit your ideal customer profile. It's like any form of marketing, really – shooting in the dark produces more misses than hits. So if you're planning any kind of direct mail marketing campaign, take the time to research the names of the people you want to reach out to, and make sure they fit your ideal customer profile.
Now, you might be thinking that direct mail isn't a good marketing tool for your type of business. You'll especially think that if you're running an online business. So I'm going to put that myth to rest right now.
A Web Marketing Company's Outside-the-Box Direct Mail Campaign
I'll spare the specific details, because you can read all about Ugly Mug Marketing's totally wacky, unique, and extremely effective direct mail campaign right on this very blog.  (Spoiler alert: it involves life size cutouts of Justin Bieber. No lie.)
At a glance, here's what they did:
Step 1: They asked – and took time to answer – a key question most people don't ask when they're planning a marketing campaign. The question was "What are our prospects currently thinking and talking about?"
Step 2: They assessed those answers, and decided to roll with the most outlandish one. The most fascinating one. The one that would make most people think it was too ridiculous to work. (This is where Justin Bieber comes in – they knew their target market would get it).
Step 3: They narrowed down their prospect list. This ensured that they reached the customers they most wanted to work with. For Ugly Mug, that was just 10 people (who says you need a huge list to make money?). For us at Write Ahead, it was 180 people.
Step 4: They included motivators. Ugly Mug's campaign included a discount offer. They also only accepted three new clients, even though four responded.
This one sales letter generated $26,495 in revenue.
When we ran our campaign, we ran a discount offer with an expiry date. These tactics encourage the target market to act fast. But they've stayed with us, even though the discount expired long ago.
Fringe Benefits
You know what else worked well for Ugly Mug? Writing about their direct mail campaign on the Mirasee blog. Because that's how I learned about Wayne and his team, and that's what led me to hire them to completely redesign Write Ahead's web site. Even though I live in a different country 4,200 kilometres away and I've never seen any of them in person.
See? Direct mail works. Even indirectly. (WHOA)
How to Make Direct Mail Marketing Part of Your Business Plan
A business plan for any company (whether new or existing) ought to contain a clear description of your business's ideal customer. (If you haven't got one – use Mirasee's customer profile template to get going!) Every other part of your plan stems from that description. So assuming you have that part well defined, the next step is to think about how your audience might respond to direct mail. Would they prefer formally addressed white envelopes, or life-size Justin Bieber cutouts? Something three dimensional? Something that follows up with a phone call? There are lots of ways to do it.
Make sure, of course, that the way you send your message also fits what you're trying to say! A life-size cutout may get attention, but it needs to be on topic! If you find it difficult to determine what type of mail to send – then go with what is most appropriate to what you're truing to say. 😉 A beautiful envelope and stationary for an invitation to a seminar, perhaps, or a thick card with a recipe and invitation to buy or download your cookbook.
Once you've identified what it is your ideal customers would like to receive, then it's up to you to determine how many of them should receive it. How many customers would you like to get from your campaign? Consider both your target revenue and the capacity of your business. Ugly Mug wanted three new clients at $7,000 each. Write Ahead wanted ten new clients at $2,500 each. Both of us surpassed our revenue goals.
One interesting stat to note is that their conversion rate was about 30%, and ours was about 9%. We also sent our sales letter out to far more prospects, so it's not at all surprising that our conversion rate was lower – our pool was larger and less targeted, and that was on purpose, because we were still feeling out that group of prospects in order to narrow them down even more later on.
Two Completely Different Campaigns… Two Completely Different Lists… The Same Remarkable Results
In the digital age, old fashioned ink on paper can still produce some awesome results. If you follow the steps above you should be able to create a direct mail campaign that does really well. And if you create a campaign that doesn't produce the result you hoped, don't worry about it. The lessons you'll learn during the process will help you hone your skills for your next campaign.
Again, the best way to reduce your risk of an unsuccessful campaign is to have a crystal clear vision of your ideal customer. And then build the campaign around their interests, needs, and desires. Has it ever been any other way?
Have you seen any direct mail campaigns that were awesome? I would love to hear about them in the comments below!