How 6 of My Books Became Amazon Best-Sellers in One Month (Project ABC)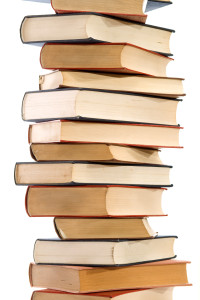 I had been blogging for 2 years and publishing eBooks for one. I was making tens of dollars a month. Then my husband and I were in a bit of a financial bind; Christmas was coming up and there were a few unexpected financial emergencies and a client who hadn't paid me in 2 months.
Because I'm a bit of a "pull yourself up by the bootstraps person" and I've grown quite attached to staying at home with my children, I wrote another eBook at record speed so I wouldn't have to find seasonal work. Within a week the book was written. Within a month it was edited and formatted. I lined up a blog tour with my blogging friends, got a cover design that was in the budget, and set a launch date.
My book, The ABC's of Freezer Cooking, connected with the women in my audience and the audiences of the bloggers who helped me with the launch. The book was intended for women who were looking for more time and ways to make life simpler. Unlike the previous books I had launched,(that had made a whole $50) this one was just what people in my audience were looking for.
Almost immediately after it was published on Amazon, it became a best-seller in its category. To say I was ecstatic was an understatement. I immediately called up my mother to tell her I had beat out a Martha Stewart cookbook in my category. Never mind she's a billionaire, my book was selling more copies than hers.
Needless to say we had some extra money for Christmas (not a ton, but extra money). Then at the end of December I decided to do something crazy. I decided to pull my book from all other sources, and sell exclusively with Amazon, so I could take advantage of 5 free days of promotion.
Because I had been publishing on Amazon for a year and my book was already a category best seller; because everyone had just received shiny new Kindles for Christmas; because I had some connections with Book Snaggers; because I was a regular participant in Kindle forums; because my book had just come off of a very strong launch; because some mega blogs took notice of my book (and you better believe I told them thank you after the fact); something crazy happened.
The ABC's of Freezer Cooking became the number one Non-Fiction Free download. (Try as I might I could not beat out Les Miserables for the number one download spot. I think that may have had something to do with a certain Hugh Jackman movie). Not only that but all 6 of my and my husband's books became category bestsellers too.
After the free promotion, I went from being an Amazon nobody to being in the top tenth of a percent of digital authors in sales. Um… that's crazy! Since then my books are almost always category bestsellers (don't think I've stopped marketing though).
Despite my success, I did make some big mistakes.
What I messed up:
I didn't invite people to subscribe to my blog. I had the link but no call to action. Yeah, I'm still kicking myself about this one.
I should have taken more screen shots. Don't even get me started on this one. I was so busy marketing my book in other ways that I forgot to take screenshots after my free promotion ended. Ugh! All I can say is UGH!
I didn't make it clear in the title that the book wasn't a cookbook. My book started receiving a bunch of one star reviews because it didn't have enough recipes. Recipes? This was a book about a cooking technique. Others were giving me one star reviews because it was too basic. People were snagging my book because it was free but not reading the description. Okay, lesson learned. I changed the name of the book to reflect the fact it was a basic introduction to freezer cooking, and not a cookbook. It stopped most of the one star reviews but, I'm still paying the price as I'm a hair shy of a solid 4 star rating.
What I did right:
I invited people to follow my Pinterest board on Freezer Cooking. Pinterest isn't nearly as valuable as an e-mail list, but my followers did help a guest post of mine get more than 20 thousand shares.
I had 2 years of blog relationships built up. There were plenty of people willing to help me with my launch. I made sure to thank everyone.
I chose the right timing. After Christmas everyone had a new Kindle they wanted to fill with books. There was no better time to have a book doing well on the bestseller lists.
In January, a lot of people have free trials of Amazon Prime memberships. So my book got a lot of "free downloads" after my promotion had ended. For everyone who checked out my book for "free," I got 2 dollars. This was different than my free promotion days, when your book is enrolled in Kindle Select Prime members can get free downloads of it, where you as the author make a royalty.
What I'm changing:
I'm going to e-mail every person who bought my book. Wait a minute; didn't I say I didn't get any of their e-mails? You're right I don't have their e-mails, but Amazon does.
So I figure I have two options. Option one: hack into Amazon's databases and discover who bought copies of my book (sounds risky). Option two: make a significant change to my book so Amazon will e-mail every single person for me, and let them know my book has been revamped.
I think I'll be going with option two. Now I just need to make significant changes to my book, like adding 50 new recipes, and an invitation to subscribe to my mailing list, and an ad for a similar book I'm gearing to publish.
But this is where I need help. I don't have time to write 50 new Freezer Cooking recipes. I've sent out an APB to every blogger I know asking for their best casserole, soup, or other recipe that would freeze well.
In exchange, their recipe and a link to their website have the potential to be seen by 80,000 people who have already downloaded the book, and many more moving forward. Not only that but I'll have a readymade group of bloggers with a vested interest to help this book do well. It really is a win-win situation.
So biggest lesson learned from this whole experience, and oh I wish I would have had the Audience Business Master Class Back in November, get the e-mail addresses the first time around, so you don't have to make Amazon send your e-mails for you.
The Audience Business Master Class help me put my finger on the things I did right and the things I did wrong. My husband and I have been dreaming for years about writing full time, this course has laid out a clear vision to make that happen. The following are the three biggest take-aways from the course and what every author should do any time they're publishing an eBook.
The Big Three For Authors:
• Build relationships. Build relationships with your audience, build relationships with other bloggers. Friends (even cyber friends) recommend other friends books.
• Create an opt-in offer on your website, or a reader only offer for those who purchase your book to get addresses on your e-mail list. I was amazed at the jump in my subscribers after my Amazon free-run, and that was without an opt-in, I feel like I missed out on a huge opportunity to expand my audience even more.
• Create content your audience desperately needs and wants. It's more than just creating something you'd like to read, create something your audience wants to read.
Now It's your turn: What ups and downs have you faced during launches? What have you learned and what's on your "must do" list?