Project ABC: How I Created a Profitable Offer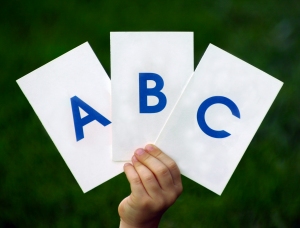 Have you ever launched a new service or offer only to be met with crickets?
Me too. I remember early on I'd release something new, sit by the computer with anticipation, then watch tumbleweed sweep across my computer screen.
It's discouraging to put your heart into something only to have it flop.
You know your audience needs what you're offering. So why aren't they biting?
Over the last few months, I've learned a few strategies to help me lead my audience from disinterested to curious to enthusiastic in a matter of months.
I "graduated" from Mirasee's Audience Business Masterclass last year, but I often revisit the program to brush up on strategies or clarify lessons that are more relevant to me now that my business has grown.
Over the past few months, I've doubled back to the "Profitable Offers" module with pretty stellar results.
Here's a quick rundown of how things are going (and where I'm headed).
A Seedling
For the first 15 months of my copywriting business, I focused on writing copy for coaches and healers.
My most profitable offers were "I Write Your Website" and "I Write Your Sales Page" (I've recently stopped offering the latter).
I loved writing copy for people but I realized that most of my clients continued to struggle to manage their content and maintain momentum, even after their websites were written.
That's because writing is a huge part of entrepreneurship. There are emails to respond to, courses to create, product detail descriptions to write, website pages to update, autoresponders to strategize … the list goes on.
I wanted to play a larger role in helping on-the-rise business owners own their voice, nail their message, and manage their content for the life of their business.
So I had an idea. What if I offered one-on-one copywriting support?
The Testing Phase
I followed Danny's instructions as outlined in the Making Profitable Offers module of the Audience Business Masterclass, and tested my offer with a handful of business owners who were willing to give my private copy coaching a chance.
Danny recommends getting paid for this initial testing phase, but I felt so unsure about how it would work that I offered seven 45-minute coaching calls for free.
(I learned a lot from working for free. Read more about the pros and cons here.)
My goals were to learn what kind of questions people would have, how the process should work, and how I could best demonstrate the value of copy coaching.
Tip: I didn't have any formal process in place for this initial stage. I also didn't guarantee any results or require that we talk about certain things. I left the door wide open and I was very upfront with my clients that I was learning as I went.
The Learning Phase
During my test calls, I tracked recurring themes, including what was frustrating my clients the most.
For instance, I heard a lot of people tell me that they're comfortable writing but they don't know what's "good enough" to keep and what to edit out.
I also heard these common questions:
How do I balance getting my personality across with giving expert advice?
How do I say this in a way that will be clear to people?
I know what I want to say but I just don't know how to say it. Can you help?
How can I get my writing to sound less "flat" and formal?
I work mostly with service-based professionals like coaches, so they had lots of questions about riding the line between expert/coach and approachable friend.
I also kept track of breakthrough moments. This included learning how to create a canned response in Gmail, getting clear about their target audience, and becoming more comfortable with writing as a process (not just an end result).
I also learned that this was a great program for people whose brands were evolving or changing. They want their copy to "catch up" to their new brand, voice, and message.
Most importantly, they craved space to ask their specific questions – -a luxury that not all online courses can (or want to) provide.
Tip: Testing something new takes time! I tried to leave room on my calendar for the calls, follow-up emails, and process refinement. But I still felt harried by the end of the test phase. Juggling a new process while managing my regular workload got a little rough. I suggest setting about 20% more time aside than you think you need.
The Evolution
After a few weeks of testing, I knew this was an offer I wanted to pursue in my business.
I decided to create a super affordable deal for a handful of former clients who I thought would be a good fit for a 3-month long mentorship.
I used all the information I had gathered from the testing phase to create a simple, casual email asking them if they'd be interested in a mentorship.
I used the same language I'd heard my test clients use on our calls and made promises that correlated with the breakthroughs I helped deliver.
I quickly got 3 clients for a 3-month long membership. (I took a hard look at my existing client line-up to determine that I could help no more than three people for the next phase.)
New Insights
I'm currently at the tail end of my three-month trial period, and it's been so much fun!
So far, I've helped three really amazing women make huge strides with their websites and offers.
Plus, I've gotten a handle on exactly who to target and how much time I need to put aside for each client. (A lot!)
Phase two also gave me a really good feel for the knitty-gritty details: how many emails to expect; how to establish a recurring payment plan; which software is best for collaboration; how to organize shared files … all those things that, had I not tested with a small number of clients, could've easily spun out of control.
Also, because I was working longer term with these women, I was able to clearly see common trouble spots.
So I began a library of resources that included templates, video tutorials, and advice to help them along the way. As it continues to grow, this will become a huge value to the new clients I take on.
Tip: Notice that I didn't create this library until after I started working with clients long-term. The downside is that each time someone needed something, I had to set aside time to create it. The pros are that I didn't spend extra hours creating things people didn't need. (I created list of about 17 templates that I thought would help people. At last count, my clients only needed a total of 5.)
Next Steps
Over the next few months, I have a few more things to iron out: finalizing contracts, thinking of more ways to surprise and delight my clients, and creating a more structured outline for the service itself.
Around July, I'll launch the offer to my full list. I've already created a blog and email plan to support the marketing. (And I have a good pool of testimonials and client language to pull from, which is priceless.)
Whew! Writing it all out makes me realize how much work it is. But this slow and strategic approach is much more gratifying and useful than going whole hog.
I've learned so much – and I've made a profit. Even better, next time I want to test a big idea, I'll be one step ahead of the curve now that I have this experience under my belt.
Tip: Halfway through the 3-month mentorship, I sent my clients a short feedback form to get a feel for what I could begin improving right away. My clients are kind but candid, and I learned so much from their honest thoughts. Plus, the positivity and excitement they poured out pumped me up for phase 3.
Are You Experimenting with Your Offers?
If there's a new idea you've been toying with, how you can you start to test it out? What are the first steps you can take? Let me know in the comments below!