8 Reasons You Have To Be On Video & How To Get Started Today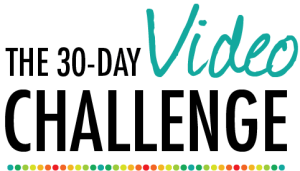 No Traffic? No Conversions? Here's the Solution…
Did you know that most visitors stay on your site an average of just 17 seconds?
It's a shocking statistic and it reveals why your website may not be performing as well as you'd like, making the sales you want or delivering the lifestyle you were promised.
Think about it. If visitors don't hang around, you lose your chance to build a relationship with them and ultimately sell something.
But I have good news.
It's actually dead simple to turn a "boring" website around and not only keep people's attention as long as you wish, but get them to bring their friends too.
The secret is to tap into the awesome power of VIDEO to start showing people the important things instead of getting your message across in text.
Video is your secret weapon that effortlessly keeps their attention for valuable minutes.
When people spend more time with you, they'll start to get to know you better. And when they start to like and trust you, the sales follow.
And that's just one of 8 reasons you absolutely have to start making videos if you want to skyrocket your business and build deep, lasting relationships with your tribe…
Reason #2 – Video inspires people to action more than text. Marketing research has shown that video based sales pages can increase sales up to 80%. And when you have video on your home page, you can maximize opt-ins to your newsletter by telling a story that inspires new visitors to opt-in. And we're going to talk about each of these kinds of videos in just a moment.
Reason #3 – There's a direct link between content and traffic. The more videos you put out into the world, the more traffic you'll get. Each piece of content you send into the world is like an emissary for your business, encouraging people to come and check you out. And the great thing about the internet is that once you put it out there, it will be out there forever, showing up in search engines, and bringing traffic to you.
Reason #4 – You make a video once and people can watch it anytime anywhere, as long as they have an internet connection. So video leverages your time and extends your reach. Instead of having the same conversation over and over again with everyone who calls you up, you can put that story into a video on your home page or on your about page and tell everyone in one fell swoop.
Reason #5 – Video enables you to reach thousands or even millions of people without having to gather everyone in a room together and present face-to-face. It's becoming more and more challenging to fill rooms, so being able to share your story on video is the next best thing to actually presenting live in person.
Reason #6 – In our culture we're used to associating people on camera as an expert, someone we need to pay attention to. So simply by creating a video, you're giving yourself a huge amount of credibility. You're sending that powerful signal to your audience that you know what you're talking about.
Reason #7 – And, this is critical, video allows your audience to look into your eyes and see into your soul. Video makes you trustworthy and relatable as people get an instantaneous hit of your energy — not just what you're saying, but how you're presenting yourself and the energy you're giving off — and they know really quickly whether you're someone they can trust, someone they want to follow and listen to. These days we all have really high bull-shit filters and video can do a lot to address the natural skepticism that most people have, especially to someone who's trying to sell them something.
Reason #8 – In the age of Google, where anyone can look up anything, just giving people information isn't enough. Information alone can't lead anyone to true transformation. If you want to deliver true transformation, you have to show it and one of the best and easiest ways to do that is through video. Unfortunately, many people let their fear of the unknown stop them before they've even tried, but in this post we're going to demystify the whole video "thing" and show you that you don't need expensive equipment, detailed technical know-how or amazing production to make a video. All you need is your story.
If Video Is So Great, Why Aren't More People Doing It?
The problem is, most people don't do video because they're scared. The fear of public speaking actually beats out the fear of death as one of the top human phobias… Seriously. Who isn't a little camera shy?
I used to be a documentary filmmaker so I know first-hand how much that click of a button can change people – instantly transforming the most accomplished speaker into a tongue-tied teenager.
I believe Jay Leno said it best "I guess we'd rather be in the casket than delivering the eulogy."
People think they need to be one of those hotshot presenters or they'll screw it up, turn people off and waste their precious time and money. PLUS they think they need to have technical know-how and professional grade cameras, teleprompters, lights and sound equipment.
This is pure baloney… No matter what you currently think of video right now… Even if you're convinced you wouldn't be any good at it. Even if you're not technical at all. All you really need to get started is a smart phone, iPhone, iPad and, of course, YOU.
We live in an era when messages go viral on YouTube every day. Yes, it's true many of them are silly things but lots of them are important messages. And the only thing that's stopping your message from going viral is your ability to package it up and get it in front of the thought leaders in your market.
The Easiest Way to Stop Procrastinating and Get Started with Video Marketing TODAY!
Video is the future of marketing. And we believe you have to be on video if you want to skyrocket your business and build deep lasting relationships with your tribe.
I know that there are tons of excuses not to do video – I don't know how to start a video blog, I don't have the time, I don't have the confidence, I want it to be perfect, yadda yadda yadda.
That's why I decided to launch a 30 Day Video Challenge starting May 1, 2013.
All you have to do is commit to filming yourself once a day starting May 1st – whether it's for 30 seconds, 1 minute or 5 minutes. You don't have to plan what you're going to say or rehearse. You don't need a fancy camera – you can simply use your smart phone or iPad. You don't have to be perfect. And you don't need to do anything with these videos.
The details really don't matter. This challenge is simply about getting comfortable on camera and the easiest way to do that is by simply showing up and filming yourself once a day for 30 days.
There's no opting-in, there's no paying money, it's all completely free.
The question is, will you join us?
How to Join the 30 Day Video Challenge
This Challenge is currently over – but there's still tons you can learn! Check out the video and follow Marisa to find out more. 
Here's to you learning how to make your own videos!