What Some Clown Can Teach You About Audience Analysis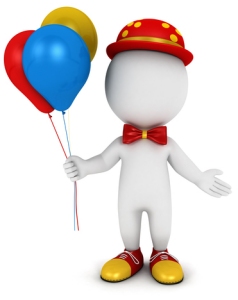 What scared you as a child?
Did something make you believe there was danger lurking under your bed, below the shower drain, behind the furnace, or even at the circus?
When my daughter turned three, her grandparents took her to the circus. They found out that if you arrive early, you can meet the clowns before the show starts.
Other kids were happily getting high fives from the clowns, smiling for photos, or having quarters pulled out of their ears. My daughter wouldn't get anywhere near the clowns.
Every marketer knows that customers buy from people they know, like and trust.
My daughter's toddler brain assessed the clowns and positively felt that she didn't know them, like them or trust them.
And your customers might be doing the same…
Several years later, she found a picture of her unsmiling face at the circus that day. She said, "I was really scared of the clowns." No kidding.
Then she said something that shocked me.
She said, "I didn't know they were people in clown costumes. I thought they were just clowns."
She didn't see the circus clowns as just big, loud strangers who chose to wear garish makeup and clothing, and who were fond of gags that have been done to death since Vaudeville.
She wasn't judging them as men who made strange life choices.
She didn't even know they were human.
This taught me two things.
First, I learned that I should remember to tell her younger sister that clowns are actually people in clown costumes before her first trip to the circus.
Second, I learned that unless you're a mind reader, you just never know what thoughts or assumptions can completely destroy a carefully prepared image.
Are You Afraid That Your Customers Aren't Seeing You Clearly? You Should Be.
Don't make the mistake of thinking that your customers all see the same good intentions when they come to your website.
I'm sure that no clown went into the circus biz just to scare away children. Maybe they see it as a combination of performance art, comedy and tradition, but their act just isn't getting through to everyone.
As a marketer, you can understand more about audience analysis by looking at another trip to the circus.
Now imagine another family settled into their seats the circus acts begins. Just like your online audience, the audience members have a variety of sight and sounds competing for their attention.
Grandpa looks around and wonders how much it costs to heat the arena each winter. He thinks about how many miles the performers travel on bus over the course of a year. He wonders how this outfit has the gall to charge twelve bucks for a snow cone.
Mom sees the exotic acrobat and remembers her championship gymnastic tournament at fifteen, and how strong and powerful she felt before her injury at sixteen. That was more than half her lifetime ago, not to mention at least 30 pounds.
Dad watches the lion tamer. Wonders if the lion is drugged. Decides that he'd never mess with a lion, but assures himself that he could absolutely kick the lion tamer's ass if it became necessary.
The favorite aunt glances around at all the dads with kids. Wonders how every guy in here could manage to make a commitment. She silently counts on her fingers how many weddings and baby showers she has had to go to in the last two years.
The ten-year-old girl watches the trick horseback riders. But all she can see is that it's so unfair that her parents won't even pay for one month of riding lessons, and that circus girl gets to skip school and ride a horse standing up every day of her life.
An elephant poops right in front of everyone, making all the kids laugh and hold their noses. The seven-year-old boy immediately imagines himself telling his friends about it in school on Monday.  He's also going to embellish his story by telling them that the poop smelled so bad that it made him throw up three hot dogs and a large popcorn. He already knows exactly what he'll add to the story to make everyone laugh.
Do you know how your audience sees you?
People in your audience want to know how your product or service will help them solve their problems. As we all know a personal connection can make a huge difference in your sales and traffic.
How do you make sure that the audience sees a person behind your business, not a performer, a gimmick or just some clown?
Do they know you? Do potential clients or customers see you as just a character in a costume with a made-up personality?
Do they like you? Are you doing the same predictable gimmicks over and over, or are you engaging them with something they'd want to tell their friends about?
Do they trust you? Does it look like you're just there to collect a big roll of money, like the peanut vendor who makes sale after sale by just showing up?
How Can You Find What Gets The Crowd Excited?
Are you so far away from your audience that you can't see them as individuals, only as dimly lit bodies filling up seats?
In addition to noticing which of your efforts is paying off in social shares, comments, opt-ins and sales, you can use several tools to help with audience analysis.
With a few new tricks up your sleeve, you can find out if you've got a crowd-pleaser on your hands. You'll be more likely to dazzle and delight your audience, and not scare them away like some clown.
What's your best tip for making sure that your audience understands you?
Has your marketing message ever been completely misunderstood?