High Impact Business Entrepreneurship: Confessions, Milestones, and Focusing On What Matters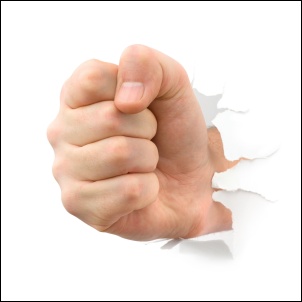 There are days when I wish that business entrepreneurship wasn't such a high-impact activity.
Because let's be honest – that's exactly what it is. To borrow a phrase from Eat Pray Love: "It's like getting a tattoo on your face – you need to be fully committed."
And just like other high-impact activities like ultimate fighting, running a marathon, or climbing Everest, if you're not 100% committed, then you shouldn't even bother.
And just like climbing Everest or running a marathon, the journey is hard, and riddled with setbacks and milestones that you need to navigate without losing focus of what really matters to you.
I had one of each this week, and I'd like to share them with you. But first, a confession:
Did you know that I dropped out of high-school?
Yes, it's true.
Yours truly, Danny Iny, is a high-school drop-out. To this day I don't have a high-school diploma.
If you had known me as a kid, you never would have seen it coming. I was the nerdiest kid in the class; the one with the big glasses who liked to read, was the teacher's pet and got the best grades without even trying.
Then things started to change. My parents split up and we moved to Israel, and I found myself bored with my new school.
Being a teenager, I spent about a year setting records for how much school a student can miss. The first semester I missed 152 periods, and it was all downhill from there.
After about a year of this, I realized that this was not a good use of my time, and I decided to make it official: I quit school with the intention of starting a business.
"What about your parents?!"
That's what most people want to know at this point in the story – where were my parents? What did they think? How did they let me do this?
Well, it can't have been easy for them. There were many sleepless nights, and much concern, but when they saw that I was serious, they decided to support my decision.
I didn't realize it at the time – after all, I was a teenager – but this was HUGE.
This decision changed the course of my life – from that point on I was off the beaten path. If my parents hadn't let me do this, then my entire life would have been different.
I learned more things from these experiences than will fit into a blog post, but I want to stress one thing that I learned, which is the real meaning of opportunity cost.
"Wouldn't you be better off with a diploma?"
Once I've explained my parents' leap of faith, and the look of bewilderment has passed from my conversation partner's eyes, the next question is usually "wouldn't you be better off with a diploma?"
My answer? Unequivocally, NO!
Does this surprise you? After all, how can you be better of not having something than having it?
The answer is that it is never that simple – to evaluate the benefits of having something, you also have to consider the COSTS of having it. Here are just some of the experiences that a high-school diploma would have cost me (all before turning 18!):
Iterating through multiple business ideas and ventures.
Working with the country's leading educational game company as a developer and 3D animator.
Learning about the challenges of working with partners – both teenaged ones, and adults.
Dealing with a business partner that had a wife and kids.
Learning that interpersonal dynamics were more important to a business's success than the product or service that it was offering.
Negotiating agreements with major telecommunications firms.
And that's just the beginning, because these experiences paved the way for the learning experiences that followed. A high-school diploma would have cost me all of these experiences, and all the lessons that they had taught me.
They say that experts are people who have made all of the mistakes in their field, and I got a chance to start developing that expertise at a much younger age, when the costs of those mistakes were a lot lower.
I think that giving it all up would have been too high a price…
DISCLAIMER: Don't Try This At Home!
Before the parents in the audience flip out and shield their children's eyes and ears from me, I want to be clear in saying that I am not advocating a mass exodus from formal education.
In my case, the opportunity cost of staying was too high, but everyone's configuration of personalities, strengths, and circumstances is different – what worked for me might not work for you, and vice versa.
The very ironic thing is that I care hugely about education, and almost every business I've been involved in has had an educational component – from my start-up that built software teaching kids how to read, to my consulting work that involves a ton of knowledge transfer, to our coaching program here at Mirasee, that turns non-marketers into expert marketers.
Not only that, but I absolutely love teaching.
So much so, in fact, that at the urging of a professor whose class I had been invited to speak with, I took the plunge to get a credential that would allow me to do it professionally.
This was two years ago – two years of adding 20-30 hours of schoolwork per week to my already overflowing workload as a consultant, blogger, and business entrepreneur. The moment that the coursework was done and graduation was imminent, I began applying for teaching positions at the nearby universities.
A couple of weeks ago, I was called in for an interview. I was more nervous than I've been in a long time, but I was also confident, personable, and excited about the position.
I thought it went well… but I was wrong.
"We regret to inform you…"
On Thursday last week, I received an email notifying me that while the hiring committee "looked very favorably on my entrepreneurial experience", they went with candidates that better suited their needs.
This was quite a blow. I'd been working towards this for two years, and it will be at least another year before I have another chance at it.
That was not a happy day.
I'm lucky to have people waiting to catch me when I fall. My fiancée was sweet, caring, and reminded me that this said a lot more about the university's priorities than it did about the value that that I would have brought to the table.
My parents were encouraging, and brothers offered a simple "tough break, we're sorry" that between the lines included "but this doesn't really matter, you're still our brother".
My online community surprised me by coming to the rescue as well.
Benny Hsu reminded me that Steven Spielberg applied and was denied two times to the University of Southern California film school, and that Michael Jordan was cut from his high school basketball team (Benny, sorry about the confusion in the comment I left!), and Jk Allen reminded me that hate doesn't extinguish hate, the lesson for me being that I gain nothing from being pissed off, and that I'm better off letting it go and focusing on better things.
The timing worked out too, and I didn't have long to stew it over, because…
The very next day… I graduated!
That's right. I can no longer self-identify as a high-school drop-out because as of Friday, May 27, I have a Master's degree in Business Administration from Queen's School of Business. This is me with my two brothers, who flew in from Israel to attend the convocation: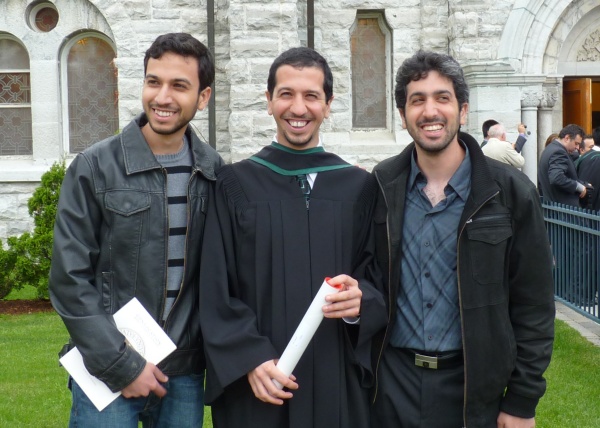 Was it worth it?
Now I'm left wondering if this was all worth it. I have the MBA, but not the teaching position that led me to get the credential in the first place.
Which brings me back to the start of this post: recognizing that this entrepreneurial life is a contact sport, and sometimes that contact isn't pleasant. Sometimes we work hard and fight the good fight, but don't achieve the goals that we set out to achieve.
Knowledge and experience are funny things – they always ends up being useful, and very rarely in the way that we originally thought they would be.
I didn't get the teaching gig (this time), but I did meet a lot of very smart and accomplished people, expand my horizons, learn an awful lot from some of the best professors in the world, and even get a start-up company underway with two partners that I connected with through the program (shhhh… we're in stealth mode – but I'll tell you more about that soon!).
I don't feel any different now that I've got my diploma, and I'm not going to add "MBA" after my name on my business card or anything… but I'm still chalking this up as a win.
And what if things had been different? What if I always got my way, and hadn't dropped out of high school? Would life be easier? Yeah, maybe. But then I wouldn't be writing this post… and where would the fun in that be?