How to Get Published on Forbes.com Without Really Trying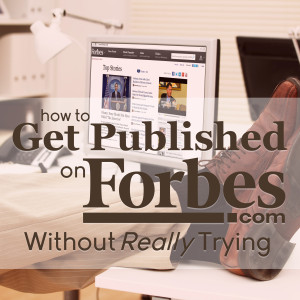 Yes, you read the headline correctly: this post is all about how to "accidentally" get published on Forbes.com.
Now, I know what you're thinking: Forbes.com doesn't publish just anyone, let alone by accident. So allow me to set the scene for you.
How I Got Published on Forbes
It was the day my first major guest article was to go live. I had just started my personal financial planning business, and was thrilled to be getting press on LearnVest, a Mint.com for women that targeted my niche perfectly.
What's more, I had waited exactly 4 months for this post to go live. This would be my first major post on the site. As I'm sure you can imagine, my anticipation was off the charts!
Throughout the first 4 hours of the day, I was completely consumed by the stats of my post. I scanned social media interactions, refreshed LearnVest for comments, and delighted in a steady inflow of new subscribers.
I was on top of the world.
At some point toward the end of the day, while scanning my Twitter feed on my commute home, I saw a tweet about my post from Forbes.com. At first, I didn't believe it. Not in a this-is-unbelievable type of way, but a someone-is-confused kind of way.
I blew it off, and finished my commute home.
But of course, I went to check my site stats again. There, I saw it with my own two eyes. I was getting traffic from Forbes.com. No, I was PUBLISHED on Forbes.com – all without a stitch of effort on my part!
It was entirely surreal. And amazing.
Here's How It Happened
Take a good look at the screenshot of my Forbes.com post: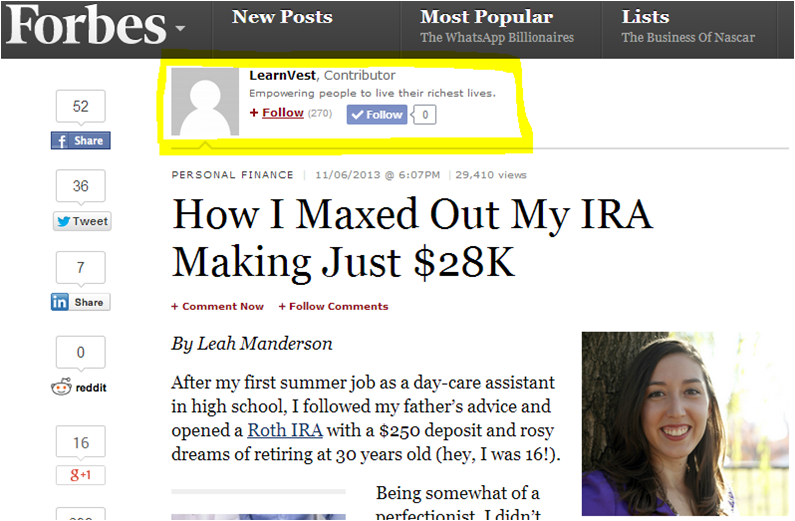 You can see at the top that LearnVest is a contributor to Forbes, and re-published my article to their Forbes.com blog.
Luckily for Everyone, This is Common Practice
There are thousands of contributors, bloggers, content partners and news outlets who publish to Forbes.com blogs. So, if you want to be on Forbes, work backward by connecting with the contributor first.
Real life example: I inquired about publishing for the site The Glass Heel, a site that accepts guest posts, and also has a Forbes.com blog. When I asked how to get onto their Forbes blog, they told me that the guest post has to be the most popular piece of content for the month.
How to Find a Forbes.com Contributing Blog
Wonder how you're supposed to find a contributor?
Some good old fashioned poking around will do. Use the search function to find articles related to your niche. Then, use those articles to guide your search back to quality contributors.
For example, I imagine that Mirasee is frequented by a lot of women interested in entrepreneurship. So, in the Forbes search bar, I typed in "women entrepreneurs."
In the first page of results I found this:

I checked out the website listed as a contribution, only to find that this site allows guest posters AND syndicates their best content.
I also know that Mirasee attracts people interested in social media, blogging, and guest posting. Using the Forbes.com search using "online marketing," I found this post:

In researching this contributor, I found My Say's contributor profile which says, "This blog features contributors who don't regularly write for Forbes but who have timely insight on starting, running and expanding small businesses."
Just to show that there are contributors of all kinds, I searched for "relationships" where I found this gem:
And – all together now – you'll find that The Muse accepts guest posts and publishes select articles to Forbes.com.
Build on Your Initial Success
So, let's say that you finally believe that you, too, can get published on Forbes.com, nicely marketing your blog along the way, by going through a contributor. Now, I'll sweeten the pot even more.
Let's return to my story.
After nearly crying at the sweet feeling of getting my name on Forbes.com, I accepted my success as beginner's luck. However, as the days ticked by, I started getting traffic from other sources with whom LearnVest had shared my story. I was on Broke Girls' Guide, The Jane Dough, and The Week.
I continued writing for LearnVest – first for the clout, and second for the amazing reach achieved by each post.
The more I wrote for LearnVest, the better it got.
The More You Write, the Better It Gets
Of 5 articles I wrote in 2013, three of them landed on Forbes.com, and all of the posts were shared around the web on sites including Yahoo!, Lifehacker, SavvySugar, the Chicago Tribune, the Zillow Blog, Levo League, and more.
In other words, the more I wrote, the more opportunities I had to reach my target market. It was a guest poster's dream come true.
Over time, and after much investigation, I learned that LearnVest was part of a syndication network, meaning they had content partners who shared their (and my) content.
Content Aggregators Can Distribute Your Guest Post to Millions
When I came to this realization, I also made the connection that there must be hundreds of other sites who shared their content far and wide, just like LearnVest.
As it turns out, I was right. LearnVest is a type of content syndicator, and the sites it shares to are content aggregators.
If you can get your work onto a content syndicator, you can reap the rewards of having your guest post distributed to millions of people through content aggregators. 
Work Backwards to Find Your Syndicators and Aggregators
At this point, you already know what my advice is: work backward!
There are both hundreds of content syndicators AND content aggregators, and I can't possibly list out every partnership you could take advantage of.
Instead, you'll have to get a little creative and do some research on your own.
Decide what website you'd like to be on (especially if it's a difficult site to get on), and look for who contributes to that site. Some well-known, highly-desirable content aggregators include the Huffington Post, Lifehacker, Business Insider, CNN and Forbes.com.
Since a lot of people want the exposure of a site like The Huffington Post, I'll use that as an example.
You could try setting up a HuffPo blog and hoping it will hit big, but I think that may be a waste of time.
Instead, try searching on Huffington Post for the subject headline most related to your niche.
In doing research for sites I'd like to pitch in the future, I went to HuffPo Money—a site deeply connected to my niche. In the Featured Posts section, I came across the following contributor: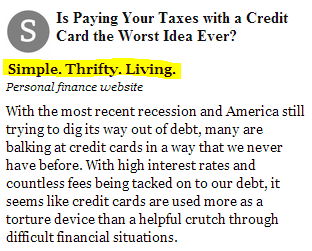 Again, if you don't find anything under the "Featured Post" section of the HuffPo page you like, click through to some articles related to your niche.
In another example, I peeked through the Healthy Living section, and found this article, syndicated by Greatist: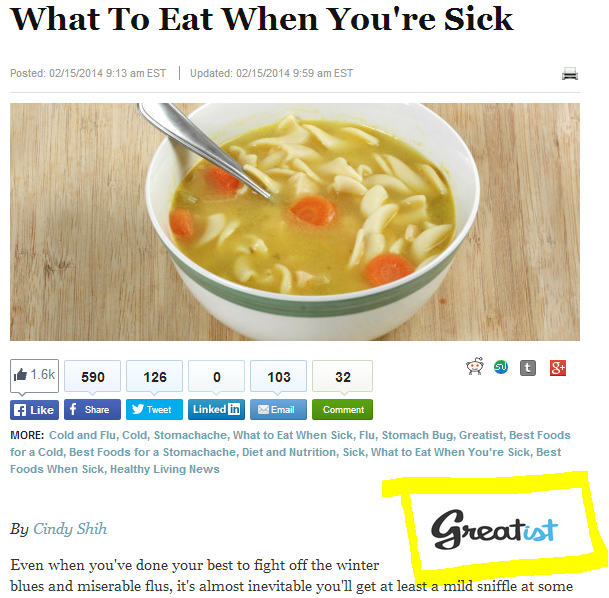 Good news, Greatist accepts guest posts!
4 Steps to Getting Your Next Guest Post on a Major Blog
So, to sum it all up:
Check out the content aggregator sites you'd really like to be on, including Forbes.com, Huffington Post, CNN, Yahoo!, and others.
Search the sections of the website related to your niche. Or, use the search bar to find more specific content.
Start taking note of the content syndicators who post to sites in your niche (LearnVest, Women 2.0, The Muse, Greatist, etc.) These sites are easier to get on, and may just promote your content elsewhere around the web.
Follow guest posting best practices: pitch your best stuff, build a real relationship with the outlet, and don't selfishly view the outlet as a means for pimping out your content.
In Review
In conclusion, if you continually make an effort to research content syndicators as part of your regular list building efforts, you can start to tease out high-value sites that expand your reach. And, even if you find that your content is not ultimately syndicated to a major site, you can rest assured that you are reaching new audiences you might not have reached otherwise!
Over to You
What major site would you like to be featured on? Let me know on the comments below, along with the names of a few contributing sites that would be a good blog marketing opportunity for you.